KERMIT CHAIR STANDARD TAN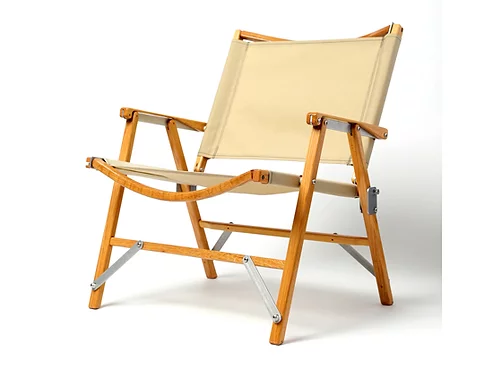 KERMIT CHAIR STANDARD TAN
---
Presenting our classic Kermit Chair . This is the premier lightweight wooden camping chair, designed and manufactured unlike any other foldable chair on the market.
The Kermit Chair is made in Tennessee from locally-sourced white oak, with aluminum and stainless steel hardware. The white oak is double-dipped in marine-grade polyurethane, which is thicker than a spray and protects it for a lifetime. We cover our chairs in incredibly durable 1000-denier coated nylon, which we cut with heat to prevent unraveling. The chair comes equipped with its own bag and handy carrying strap.
The Kermit Chair can be quickly and easily disassembled and packed in its carrying bag to a portable size of 22" long x 6" wide.
It can also fold up like a traditional camping chair. With a well-established design that has been left untouched for over 30 years, the Kermit Chair remains the finest-built and most comfortable chair any camper can pack.
Specs: Dimensions: ​In Bag – 56cm long x 15cm wide
Assembled – 48 cm. wide, 58cm. back height, 32cm. seat height
Weight: 2.5kg
Capacity: 150kg.
Five year warranty
Made in USA
PRICE : 13,600 บาท